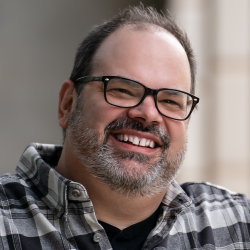 Senior Director of Development
As the Senior Director of Development, Mark (aka "Shrop") loves working at the intersection of leadership and technology. Over his 20-plus-year career as a technical team leader, Shrop held IT roles at a large urban research university and a nationally recognized graphic communications company prior to Mediacurrent. He has a passion for personal and team growth, aligning individual purpose with Mediacurrent's vision. Shrop focuses on empowering teams to excel while using best of class open source technology solutions.
Shrop hosts his own  podcasts  on technology leadership. He is the maintainer of the  Guardr  distribution, Drupal's premier module suite for open source security. Shrop is a frequent speaker at local and national conferences. He stays actively involved in architecture best practices and led some of the most comprehensive Drupal projects in the world across a wide spectrum of industries.